A box truck hit and damaged the Long Grove Covered Bridge on Wednesday, making it the second time a vehicle has struck the bridge since its grand reopening on Friday.
The Lake County Sheriff's Office responded around 1:20 p.m. Wednesday for a call of a hit-and-run crash at the covered bridge near Robert Parker Coffin Road and Schaeffer Road in Long Grove.
Several witnesses helped deputies identify the offending vehicle as a medical transportation box truck, which was traveling westbound over the bridge, according to Lake County Sheriff Spokesman Sgt. Christopher Covelli.
Deputies called the driver, identified as a 29-year-old Chicago man, and he responded back to the scene.
"The driver advised he thought the bridge was a two-lane bridge, and he hugged the right side of the bridge. This caused the top of the box truck to strike the top of the bridge," Covelli said.
The driver stated he believed the noise was his load in the truck shifting and claimed he did not know that he struck the bridge. Traffic citations are pending against the man.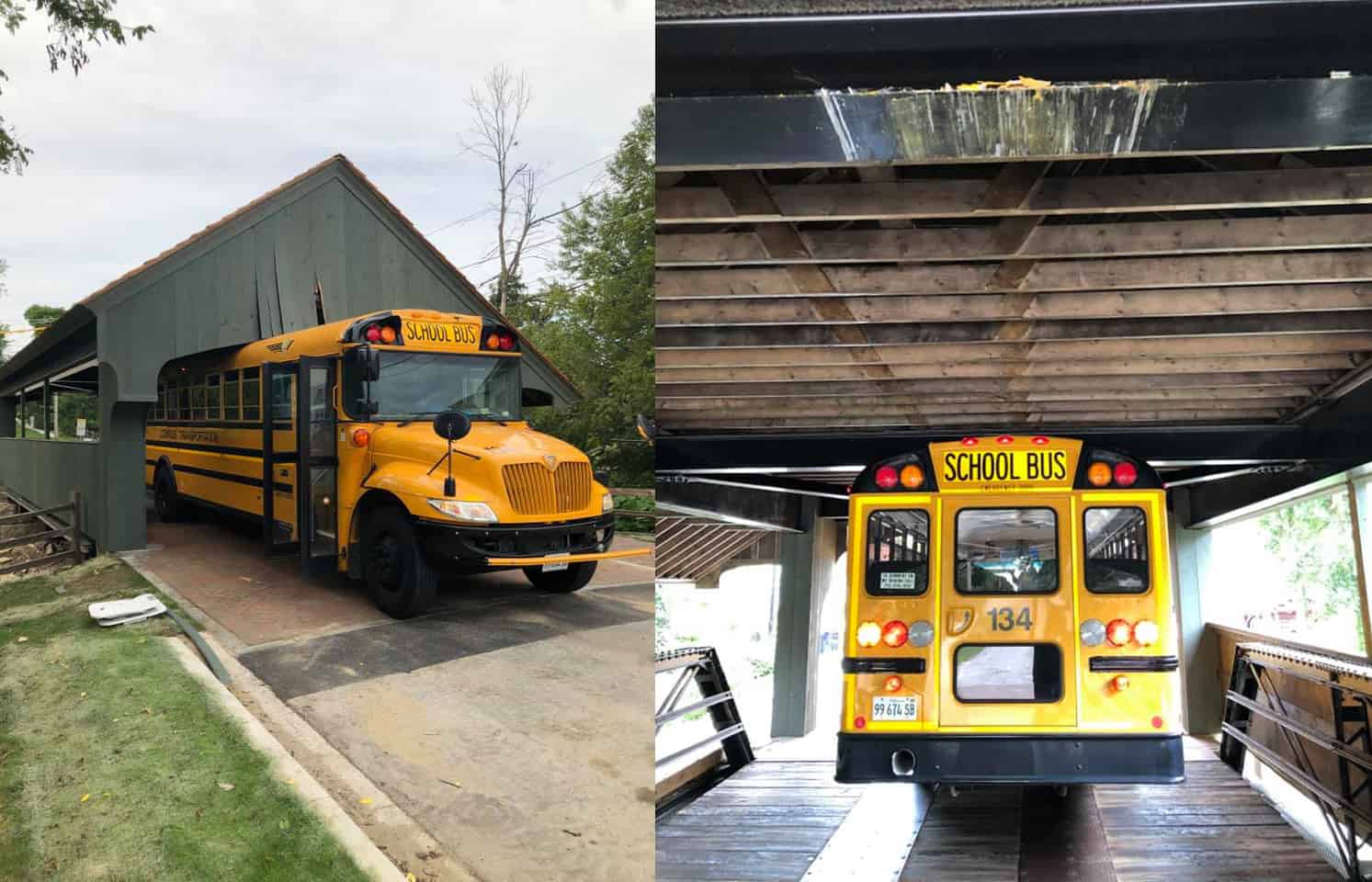 On Saturday, a chartered school bus — hired for an event — damaged the bridge around 12:25 p.m. the day after the bridge's grand reopening following two years of repairs.
The driver of the bus, a 44-year-old Chicago woman, turned from Route 53 onto eastbound Robert Parker Coffin Road.
"Her GPS warned her she should not proceeds with the type of vehicle she was driving. The occupants on the bus convinced her to proceed, which she did, and subsequently struck the bridge," Covelli told Lake and McHenry County Scanner.
There were no injuries reported and the driver accepted full responsibility for the crash. Traffic charges are pending against the woman.
In June 2018, a box truck weighing 15,000 pounds struck the top of the bridge, which had recently been declared a historic landmark just weeks prior to the crash.
The driver of the box truck, a Chicago man, was cited for disobeying a traffic control device, driving an overweight vehicle, disobeying a stop sign and failure to reduce speed to avoid a crash.
Hundreds of thousands of dollars in repairs took place within the past two years following the first crash.
Multiple signs are present near the bridge warning that no trucks, buses, or vehicles over 5 tons are allowed on the bridge.
Despite the latest two crashes, the bridge remains structurally safe. It will take about a month to complete repairs, according to village officials.