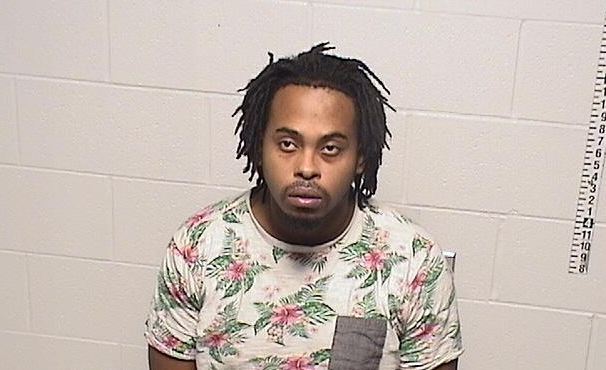 A 24-year-old Waukegan man was charged after he allegedly fled from police in Wisconsin in a car that was stolen from a Beach Park gas station, authorities said.
Denzel M. Vaughn, 24, of the 1200 block of Hickory Street in Waukegan, was charged by the Kenosha County District Attorney's Office with driving or operating a vehicle without the owner's consent and attempting to flee or elude an officer.
On November 4, a Kenosha, Wisconsin police officer observed a black 2012 Chevrolet Malibu illegally passing a vehicle in the 6100 block of 22nd Avenue in Kenosha, according to a criminal complaint.
The officer discovered the Chevrolet was stolen out of Lake County after he ran the license plate.
The officer initiated a traffic stop on the Chevrolet at an empty parking lot.
The driver, later identified as Vaughn, fled from police at a high rate of speed, the complaint said.
The officer initiated a pursuit and estimated that Vaughn was traveling at a top speed of 90 to 100 mph.
While fleeing, Vaughn allegedly struck an unoccupied and parked vehicle causing minor damage.
The Kenosha police officer terminated the pursuit and the Pleasant Prairie, Wisconsin Police Department pursued Vaughn.
Pleasant Prairie police officers later terminated the pursuit as Vaughn fled southbound on Sheridan Road, the complaint said.
On December 24, officers located and recovered the stolen Chevrolet, which was abandoned on Sheridan Road near the state line BP gas station, 12720 Sheridan Road in Pleasant Prairie.
Vaughn allegedly told the clerk of the BP that his car broke down and he was subsequently picked up by an unknown female.
Detectives identified Vaughn as the driver of the Chevrolet after reviewing surveillance video and photos, the complaint said.
In January, officers with the Waukegan police department arrested Vaughn in relation to another stolen vehicle.
Vaughn was with a female when he was arrested. Detectives interviewed her and discovered Vaughn allegedly called the woman to get picked up when he abandoned the Chevrolet on Christmas Eve.
The woman was also a passenger in the Chevrolet when Vaughn fled from Kenosha police in November, the complaint said.
Police learned Vaughn was the person who allegedly stole the Chevrolet from the Citgo gas station at Wadsworth Road and Lewis Avenue in Beach Park.
The woman told police that Vaughn routinely steals cars and flees from the police, the complaint said.
She also said Vaughn was likely stealing cars to live in them because he is homeless.
Vaughn later identified himself in the surveillance videos from the state line BP gas station, the complaint said.
Vaughn is held at the Kenosha County Detention Center on a $15,000 bond.