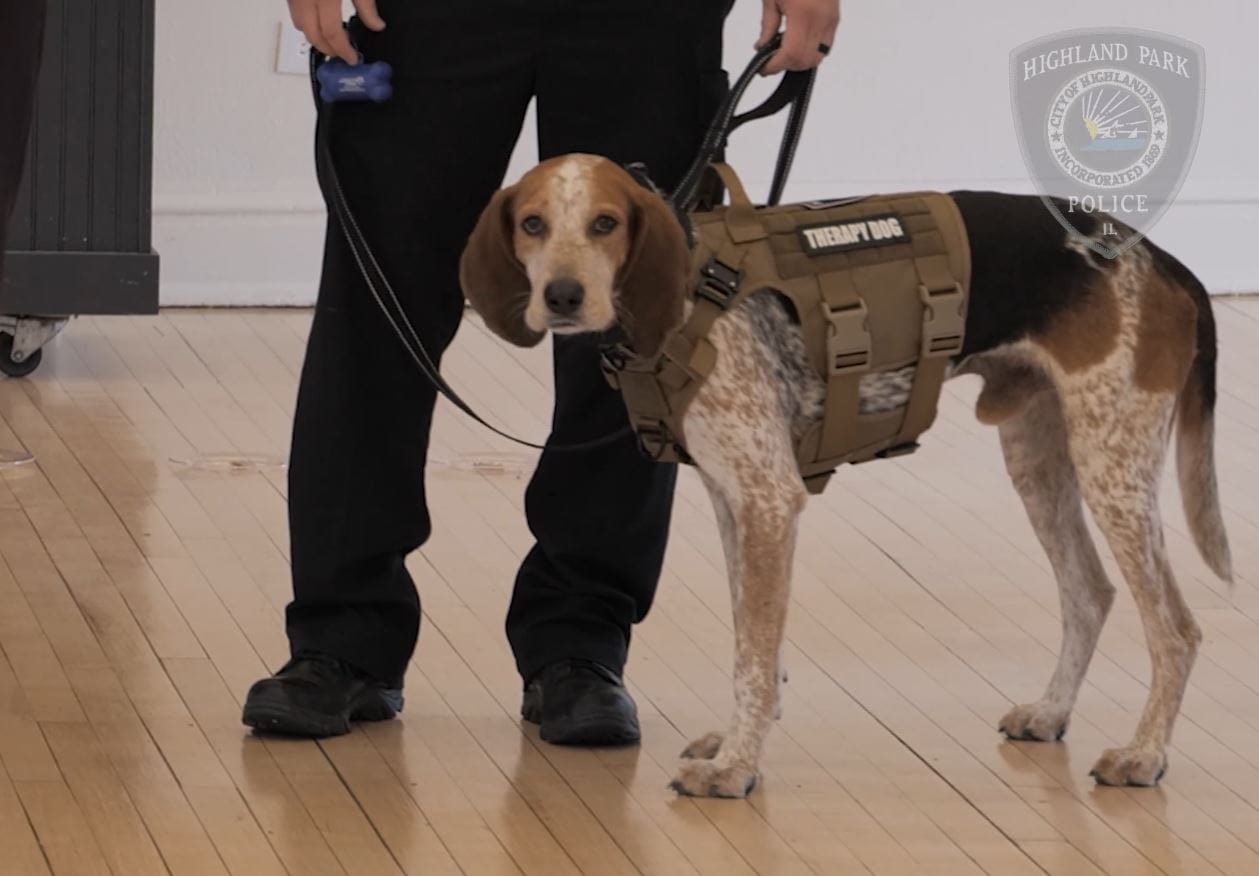 The Highland Park Police Department's first community service and wellness dog chose his own name during an honorary ceremony Monday.
The highly-trained walker hound arrived in Highland Park last month with police officers Mike Lodesky and Darren Graff.
The "pawfficer" will serve in a critical capacity assisting with bringing comfort and support to individuals in need who reach out to the police department for help, the city said.
The dog's service will primarily focus on situations where he can reduce stress and fear in individuals who have been victims of a crime or other emergency situation.
He will also be out and about in the community, stopping by schools and community events.
Students at North Shore School District 112 schools and Highland Park High School were invited in February to submit name suggestions for the dog.
The name options were presented to the dog next to plates of treats during a naming ceremony on Monday at the Highland Park Community House.
The canine chose a treat that was on a plate with the nametag "Vinny," which is short for Ravinia.
During training, the dog was given the name "Duke" and has become very attached to it, the city said.
"So, although his "pawsonnel file" says "Vinny," you'll hear our officers interact with the dog as "Duke," which is the name he was given during his time at the Paws & Stripes College," the city said.
Vinny Duke was trained free of charge through the Paws & Stripes College, a program of the Brevard County, Florida Sheriff's Office.
The program represents a second chance for both the dogs, who are all shelter rescues, and carefully selected and trained county jail inmates, who serve as trainers.
City officials said the trainers work hard to train dogs in voice commands, hand signals and other obedience skills, in addition to advanced training to serve as therapy dogs to victims and individuals in crisis.
Highland Park Chief of Police Lou Jogmen said Vinny Duke has already been on a couple of calls and is living at the police station.
"As a department, we are committed to implementing innovative ways to serve our community and enhance our ability to respond compassionately to crises and stressful situations. Our new community service dog will provide critical emotional support to individuals in need and accompany our officers in their visits around the community, engaging with residents of all ages," Jogmen said.
Ongoing community engagement to build relationships with residents and businesses is one of the city's primary public safety objectives, officials said.
The addition of a community service dog will augment the police department's mental health and crisis intervention response toolkit, which includes mental health first aid training for all officers and crisis intervention training for all officers upon completion of two years of service.