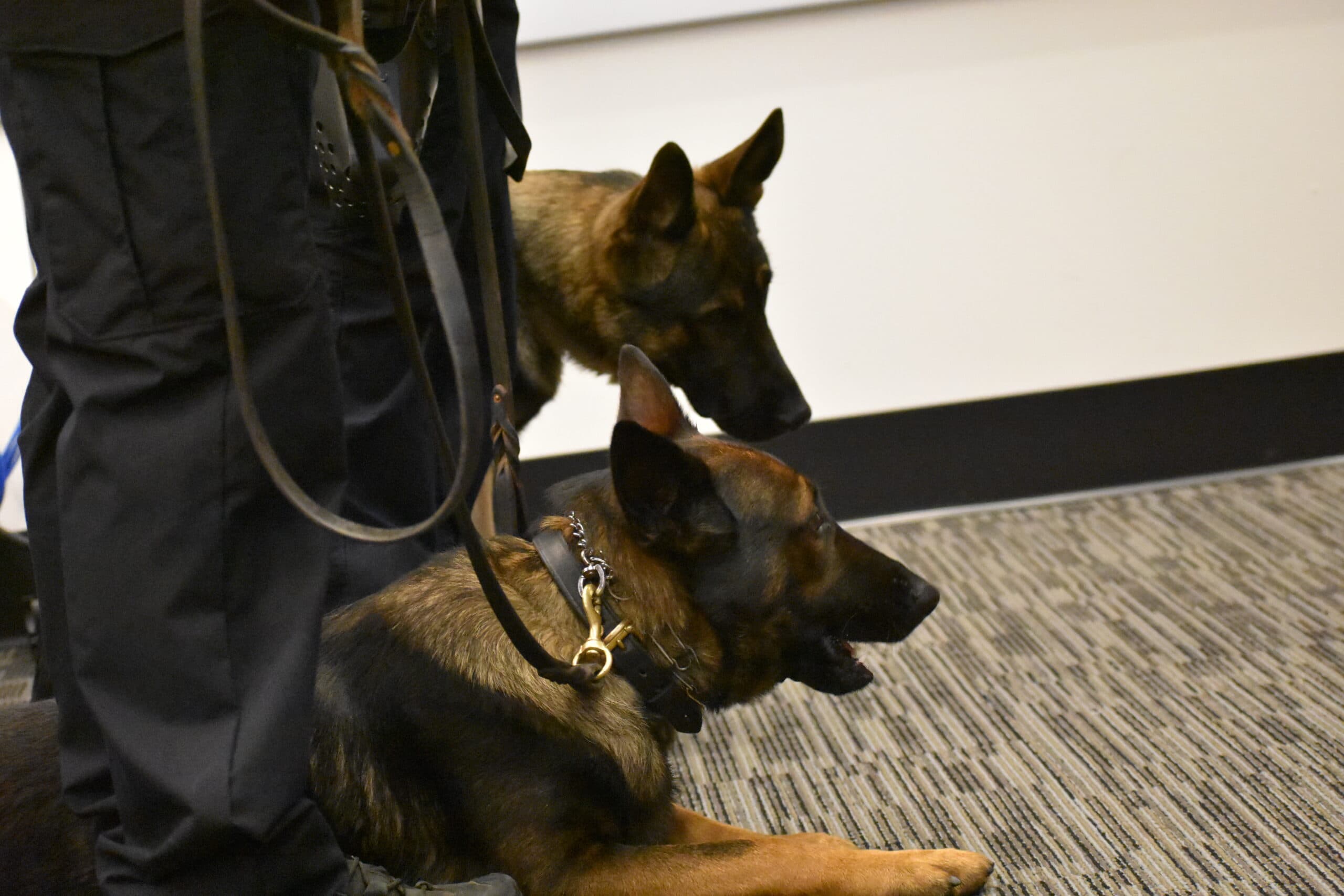 Two new Lake County sheriff's canines were sworn in and over two dozen citizens and sheriff's employees were recognized at an awards ceremony in Waukegan Thursday afternoon.
The ceremony was held at 1 p.m. Thursday at the Lake County Sheriff's Office Training Room located in the Lake County Criminal Court Tower in downtown Waukegan.
Canine Axel and Canine Echo were sworn in by the County Clerk Robin O'Connor alongside their handlers, Deputies Kevin Gauer and Tyler Girmscheid.
Both canines completed their initial training eight-week training at TOPS Kennel in Grayslake earlier this month.
Nearly 400 Lake County school students submitted names for the two dogs in March.
Deerfield High School Junior Ethan Jacobs and Hawthorn Middle School 7th graders Matthew Prigorenko and Carson Alper were awarded for naming Axel, and Millburn Elementary School Kindergartener Charlotte Regner was awarded for naming Echo.
Jacobs started a GoFundMe and raised $3,000 to provide protective vests for the new canines.
"Honestly, I looked at the dog's picture and the name just came to me," Jacobs said.
"Our police force is challenged with the never-ending task of serving and protecting our communities, but in this line of duty, they also have a responsibility to protect themselves as well, and the canine unit is no exception."
Officials recognized nearly two dozen other citizens and sheriff's office members.
The Citizen Lifesaving Award was presented to William Farner for his life-saving actions at the North Shore Sports Club in Lake Forest in December 2021.
Farner and Matthew Siebert, who are employees at the club, performed CPR and used an AED on an 83-year-old man who passed out.
The man survived due to Farner and Siebert's life-saving measures, officials said.
The Citizen Commendation Award was presented to Krystyna Wilgus, who spotted a missing 74-year-old Grayslake woman while Wilgus was working at the Jewel-Osco in Gurnee.
Wilgus, who received an alert for the missing woman on her cell phone, called 911 and followed the woman until Gurnee police officers arrived.
The Sheriff's Lifesaving Award was presented to Deputies Nicholas Sipola and Gregory Oakes and the Sheriff's Commendation Award was presented to Deputy Dwight Arrowood.
Deputies Steven Espinosa, Ann Mock, Matthew Savage and Chase Skrypek were presented with the Deputy of the Month Award.
The Alliance Against Intoxicated Motorists Award was presented to Sergeant Ari Briskman and Deputies Michael Turkson, Chase Skrypek, Brandon Eng, Miguel Banuelos, Leonardo Juarez, Robert Rossetti and Kevin Gauer.
Three members of the sheriff's marine unit – Commander John Crilly and Senior Deputies Albert Frank and Ronald Brandt – were also recognized.
Amairani Lucio was selected for the Illinois Sheriff's Association Scholarship.
"I am honored and privileged to be part of this great organization with these men and women who do an exceptional job each and every day," Lake County Sheriff John Idleburg said during his closing statements.