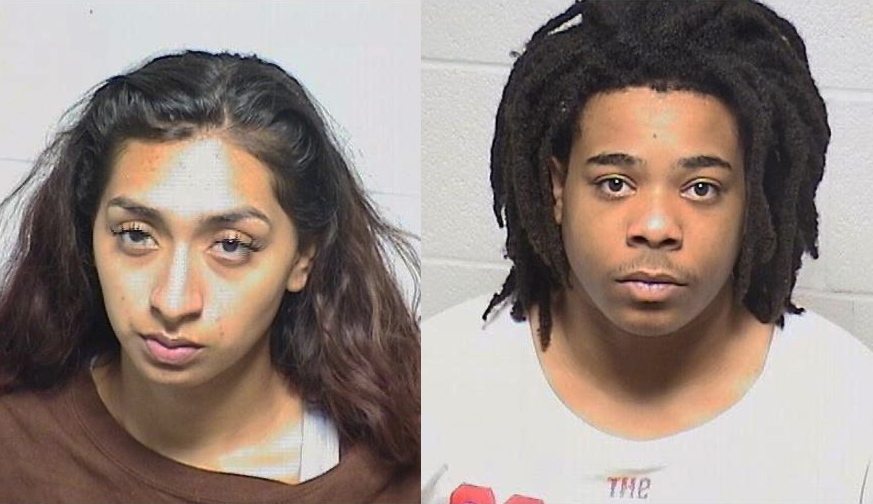 Prosecutors say a woman set her boyfriend up by letting four men, all armed with guns and wearing ski masks, into his North Chicago home where he was robbed of his belongings.
Lake County Assistant State's Attorney Lillian Lewis said that the incident occurred in North Chicago last Saturday.
The victim told police that he had been in a dating relationship for several years with Ingrid Villanueva, 20, of North Chicago.
Villanueva spent time at the victim's residence on the day of the incident and began asking the man for money.
Villanueva started calling and texting unknown people, the victim told police.
Four men showed up at the victim's home and Villanueva let them inside, Lewis said.
The men were armed with guns and wearing ski masks.
Lewis said that one of the suspects pointed a gun at the victim and told him to sit down and not to move or he would kill him.
The suspects began to take items from the house while the victim was held at gunpoint.
The suspects stole a backpack, Apple AirPods, two PlayStation gaming consoles and other items.
During the robbery, Villanueva made the victim send her $200 through CashApp, Lewis said.
The suspects and Villanueva fled in a blue Honda Accord, which was determined to be registered to Villanueva.
Officers investigated and went to an apartment building in Waukegan.
They were given consent to search the apartment and found the victim's backpack and one of the stolen gaming consoles.
Villanueva and a second person, Javonte Wade, 19, of Waukegan, were arrested after showing up at the apartment.
Villanueva admitted to investigators that she knew the four men involved in the robbery, one of which was Wade, Lewis said.
She said she went to the victim's residence with the four men and hung out with her boyfriend for a while before letting the men inside the home.
Lewis said that Wade admitted he was in the house and stole one of the gaming consoles.
Villanueva and Wade were both ordered held in the Lake County Jail on a $500,000 bond each.
It was not immediately known whether the other three suspects involved had been identified or charged yet.