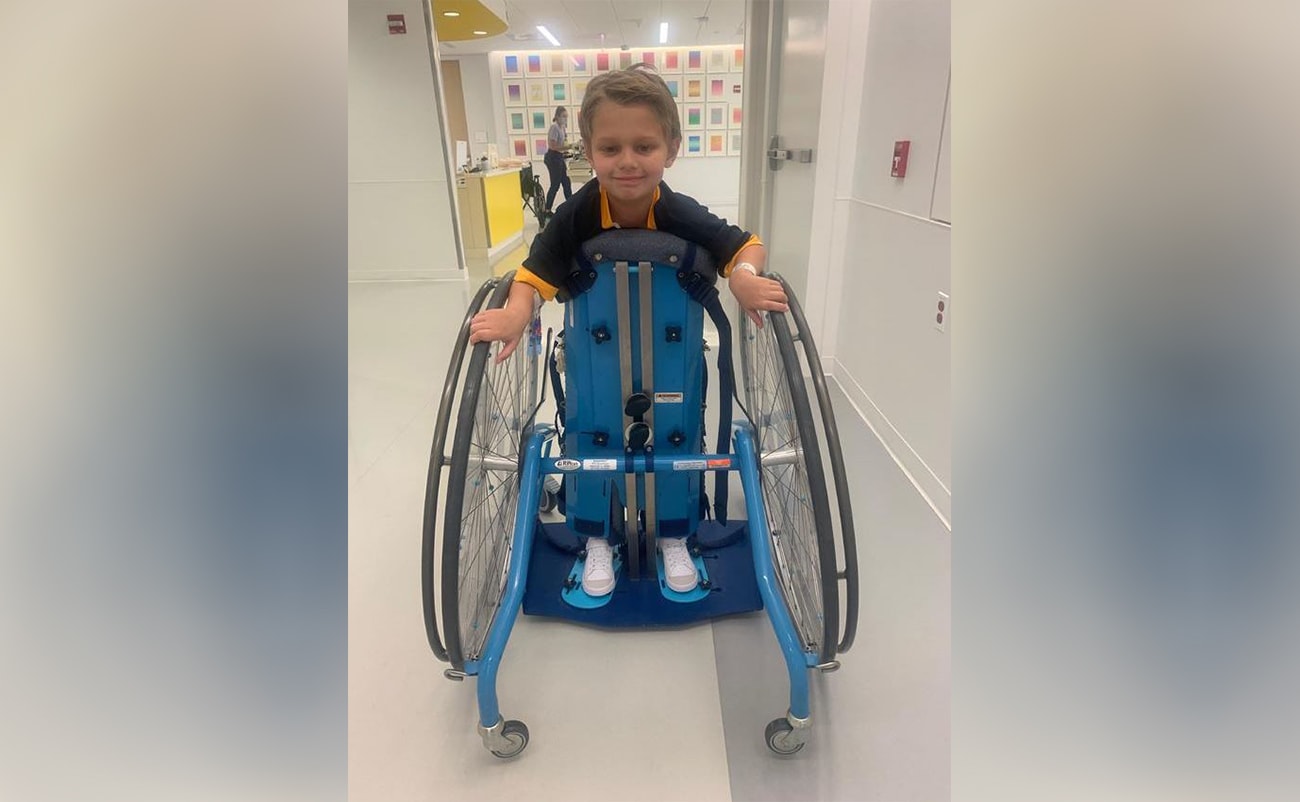 While Cooper Roberts continues to physically recover after being paralyzed in the Highland Park shooting, his family says the boy is in constant pain and feels "hopeless and angry."
The 8-year-old boy was discharged from the hospital late last month and transferred to Shirley Ryan AbilityLab in Chicago, which is a rehabilitation facility.
He has been participating in physical and occupational therapy every day to help him regain mobility and strength.
Cooper is expected to be at Shirley Ryan AbilityLab for six to 12 weeks, according to a statement from the family.
Once he is released, Cooper will join his twin brother, Luke, in the third grade at their elementary school in Highland Park.
Cooper will likely go to school for half of the day and go to outpatient rehabilitation for the other half of the day, his family said.
The two brothers have been receiving mental health services following the Fourth of July shooting.
Cooper suffered a gunshot wound that left his spinal cord severed in the shooting that required him to be airlifted to the intensive care unit of a hospital, where he stayed for almost a month.
The boy is on his 44th day away from home as he makes a "slow physical recovery," however, the mental and emotional aspect of the situation has taken its toll on him, his family said.
"Most people don't witness the grueling aftermath of surviving these devastating wounds, physical and emotional. We are constantly encouraging and motivating Cooper, seeking the positives, and hanging on to hope, but we want people to know the unvarnished reality which is his/our new world," a family spokesperson said in a Tuesday statement.
Cooper is in "constant pain" and still has internal damage. He is on a constant IV drip of antibiotics and on painkillers.
The boy can only see his whole family once a week for a short period of time because of ongoing COVID protocols.
"He desperately misses his twin brother, Luke. He misses his family, his home, his room, his toys, his friends, his dog and his school and everything from – and he's beginning to ask things like, "What will I do at recess?" though it will be many weeks before he goes back to school," the spokesperson said.
"It is very hard to convince Cooper that he will be happy again. Of course, we are beyond grateful for his survival, and we know others weren't as fortunate, but we want people to know his path/our path will be a very long and hard road. He's an eight-year-old boy who feels hopeless, sad, and angry as the reality of his life is setting in," the spokesperson said in the statement.
Morrison (D-Lake Forest) announced last week that she was organizing a "Cards for Cooper" campaign.
The state senator is collecting store-bought and handmade cards that she will deliver to Cooper's family to "show Cooper the community supports him and is cheering him on throughout his recovery process."
"Almost everyone in the community has been thinking about and cheering on Cooper throughout his recovery process," Morrison said.
"He's doing much better, but still has a long way to go. Let's show him how many people care."
Any person, no matter how old or where they live, is encouraged to send a card for Cooper to 43 Highwood Avenue in Highwood, Illinois, 60040. Drop-offs are also welcome.
Morrison encourages people to share the opportunity with their friends and family as "no amount of cards is too many."