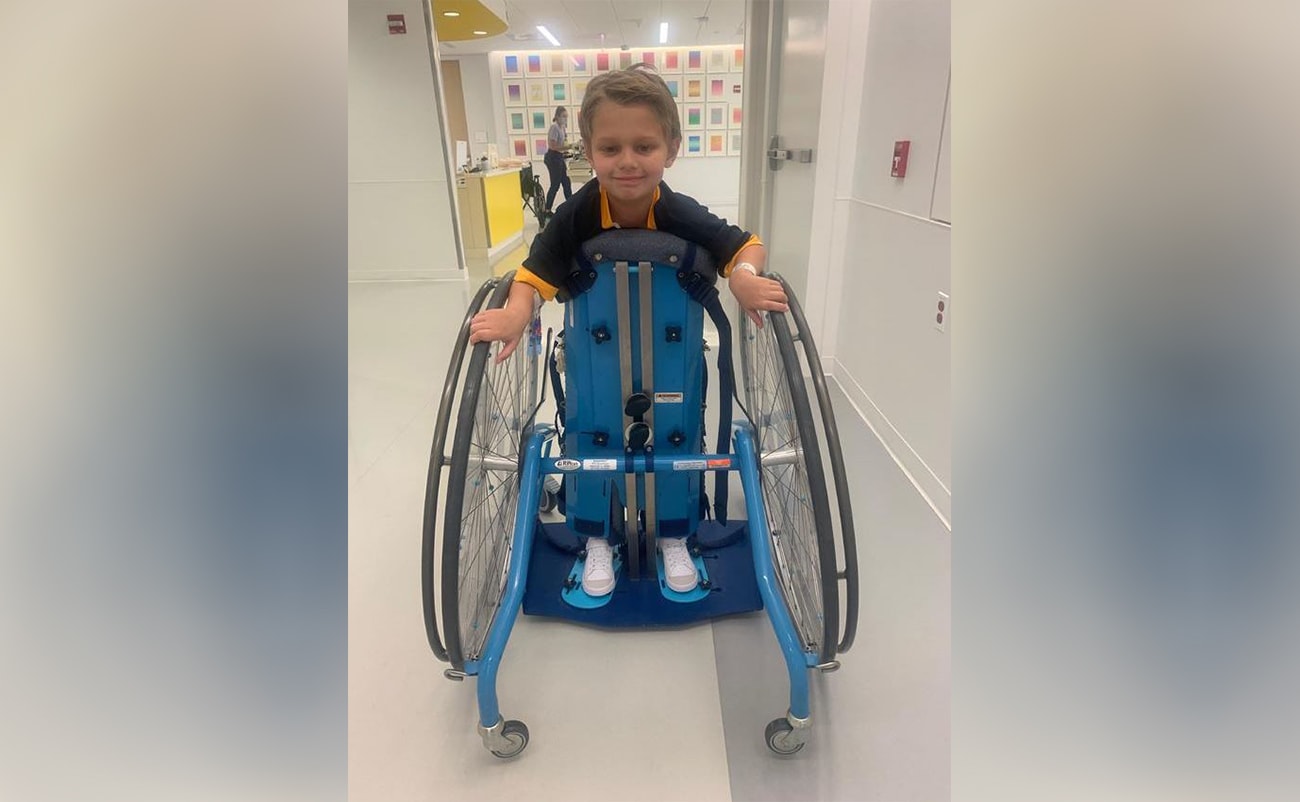 Cooper Roberts is making "positive progress" and is no longer on IVs or a feeding tube. The boy, who was paralyzed in the Highland Park shooting, participated in a wheelchair race at the hospital.
The 8-year-old boy was discharged from the hospital late last month and transferred to Shirley Ryan AbilityLab in Chicago, which is a rehabilitation facility.
He has been participating in physical and occupational therapy every day to help him regain mobility and strength.
Cooper is expected to be at Shirley Ryan AbilityLab for six to 12 weeks, according to a statement from the family.
Once he is released, Cooper will join his twin brother, Luke, in the third grade at their elementary school in Highland Park.
Cooper will likely go to school for half of the day and go to outpatient rehabilitation for the other half of the day, his family said.
The two brothers have been receiving mental health services following the Fourth of July shooting.
Cooper suffered a gunshot wound that left his spinal cord severed in the shooting that required him to be airlifted to the intensive care unit of a hospital, where he stayed for almost a month.
"Most people don't witness the grueling aftermath of surviving these devastating wounds, physical and emotional. We are constantly encouraging and motivating Cooper, seeking the positives, and hanging on to hope, but we want people to know the unvarnished reality which is his/our new world," a family spokesperson said in a statement last week.
This week the boy had his IV and PICC lines removed. He no longer requires IV pain medicine and antibiotics.
Cooper is also no longer being fed liquids through an intravenous feeding tube and can now eat the foods he wants, like Chick-fil-a, McDonald's and Goldfish.
"Removing all the tubes has been a huge mood booster for Cooper, to be able to eat some of his favorite foods and to start maneuvering his wheelchair better without the tubes getting in his way and causing him pain," the family said Tuesday.
Cooper participated in a wheelchair race down the hallway at Shirley Ryan AbilityLab with his physical therapists. He was also able to spend some quality time with his twin brother Luke.
"Many have asked us about Cooper's prognosis and the answer is, we don't know. Even 50 days past his injury, the doctors don't know what he may get back and what limitations we will live with for his lifetime. We do know that we are infinitely grateful for his survival, and for the many kindnesses we continue to receive, including from all who are working to help Cooper and others impacted heal from this nightmare," the family said.
Former Pittsburgh Steeler Ryan Shazier, who continues to recover from a spinal cord injury himself, visited Cooper on Tuesday.
Morrison (D-Lake Forest) announced earlier this month that she was organizing a "Cards for Cooper" campaign.
The state senator is collecting store-bought and handmade cards that she will deliver to Cooper's family to "show Cooper the community supports him and is cheering him on throughout his recovery process."
"Almost everyone in the community has been thinking about and cheering on Cooper throughout his recovery process," Morrison said.
Any person, no matter how old or where they live, is encouraged to send a card for Cooper to 43 Highwood Avenue in Highwood, Illinois, 60040. Drop-offs are also welcome.
Morrison encourages people to share the opportunity with their friends and family as "no amount of cards is too many."