A box truck was heavily damaged after it hit the historic bridge in Long Grove Monday afternoon. The bridge has been hit over 30 times now.
The white Chevrolet box truck hit the bridge, located at Robert Parker Coffin Road and Schaeffer Road in Long Grove, around 1 p.m. Monday.
The truck appeared to be traveling eastbound on Robert Parker Coffin Road when it struck the bridge's canopy.
The bridge suffered visible damage. The truck's windshield was shattered, the cab was pushed downwards and the middle section of the truck was also damaged.
The bridge was formerly named the Long Grove Covered Bridge.
It was renamed on Thursday to the Robert Parker Coffin Bridge, named after Robert Parker Coffin, who designed the bridge cover.
The Chatter Box of Long Grove, which is located down the street from the bridge, told Lake and McHenry County Scanner that the box truck driver was uninjured.
Witnesses reported the driver said he thought his truck could clear the bridge.
The truck reversed and parked on Schaeffer Road following the incident. The Lake County Sheriff's Office then responded to the scene.
A spokesperson for the Lake County Sheriff's Office said further details on the incident would be released Tuesday morning.
Multiple signs are present near the bridge warning that no trucks, buses, or vehicles over five tons are allowed on the bridge and showing the height clearance.
In July, a U-Haul truck hit the bridge and became stuck under its canopy.
It took tow truck crews at least an hour and a half to free the vehicle.
There did not appear to be serious damage to the bridge.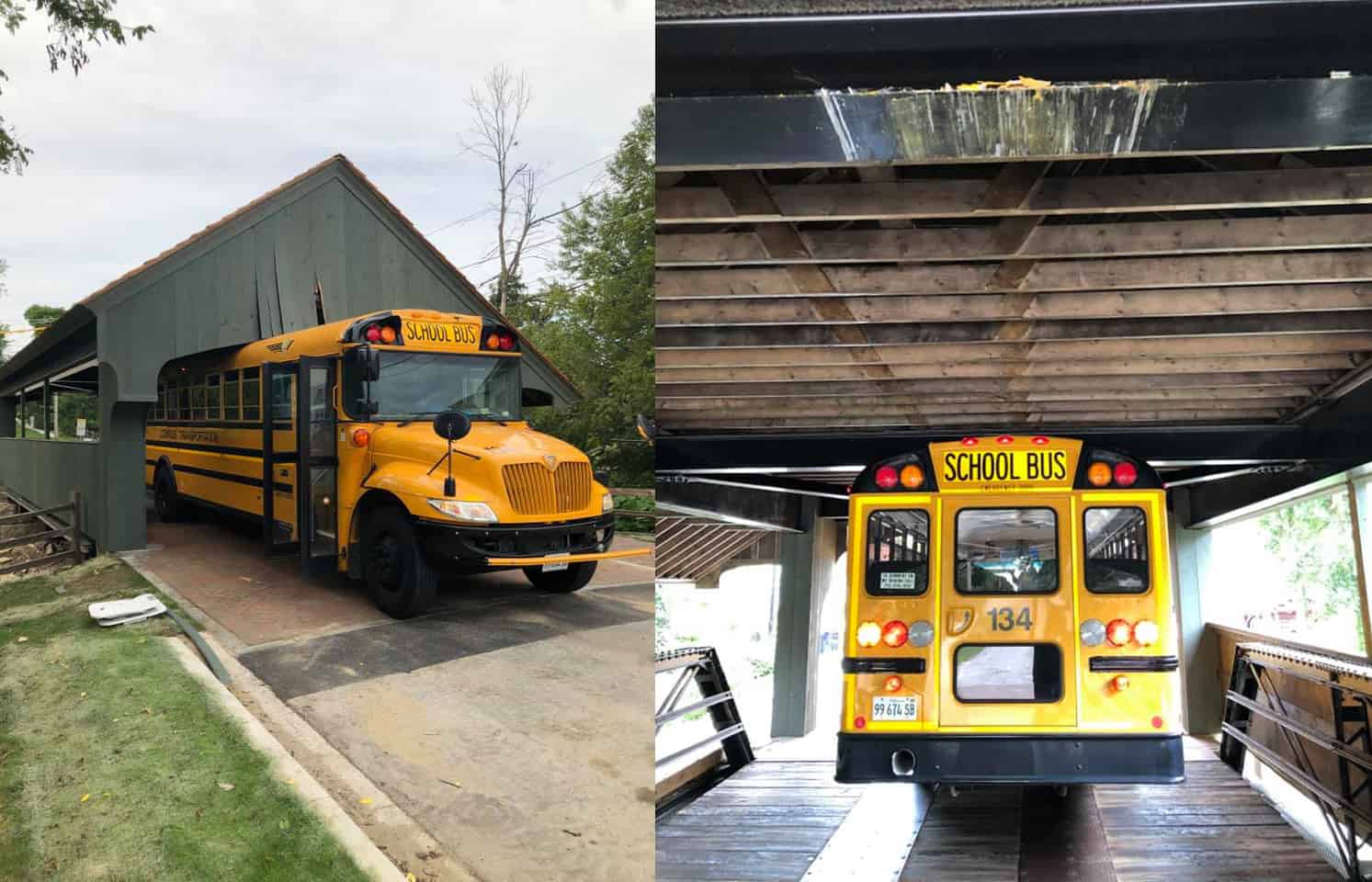 Lake County Sheriff's Office Deputy Chief Christopher Covelli said in July the bridge had been struck over 30 times in recent years.
The bridge is listed on the National Register of Historic Places.
In August 2020, the bridge was damaged by a school bus less than 24 hours after it had reopened following two years of repairs from a prior box truck crash.
That prior box truck crash caused substantial damage and nearly destroyed the bridge.