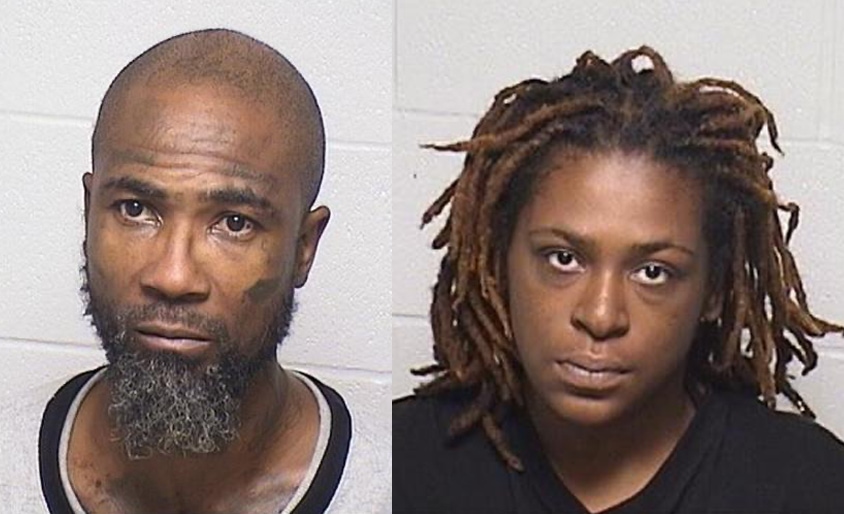 Two people, including one who is recovering after being shot earlier this year, were arrested after police found them illegally possessing loaded guns during a traffic stop in North Chicago.
Alex B. Agee, 45, of North Chicago, was charged with two counts of aggravated unlawful use of a weapon.
Tytianna Henderson, 25, of Zion, was also charged with two counts of aggravated unlawful use of a weapon.
Lake County Assistant State's Attorney Caitlin Valiulis said that North Chicago police officers conducted a traffic stop at 900 13th Street.
Officers stopped the vehicle on Wednesday after noticing it had failed to use a turn signal.
Agee was in the front passenger seat and Henderson was in the rear seat behind the driver.
The driver's license was revoked and the three occupants were ordered out of the car, Valiulis said.
Officers located a loaded Springfield XD handgun underneath the driver's seat right next to where Henderson's foot had been while she was seated.
The officers also reported they had seen Agee's left arm moving towards the rear behind his seat.
A Smith and Wesson M&P 45 was recovered on the rear passenger side floorboard, which is where they saw the man's hand reaching, Valiulis said.
Agee does not have a Firearm Owners Identification card or a concealed carry license, Valiulis said. He also has prior felony convictions.
Agee told Lake County Judge James Simonian during a bond hearing that he has been recovering after being shot near 14th Street and Hervey Avenue in North Chicago on May 11.
Court records show Agee has been out on bond for a gun case where he was allegedly found in possession of a machine gun in Waukegan on July 12.
Court records also show Henderson was previously convicted of aggravated battery with a deadly weapon for an incident in November 2018 in Waukegan.
Simonian ordered Agee held on a $100,000 bond and Henderson held on a $50,000 bond.
Both remain held in the Lake County Jail.