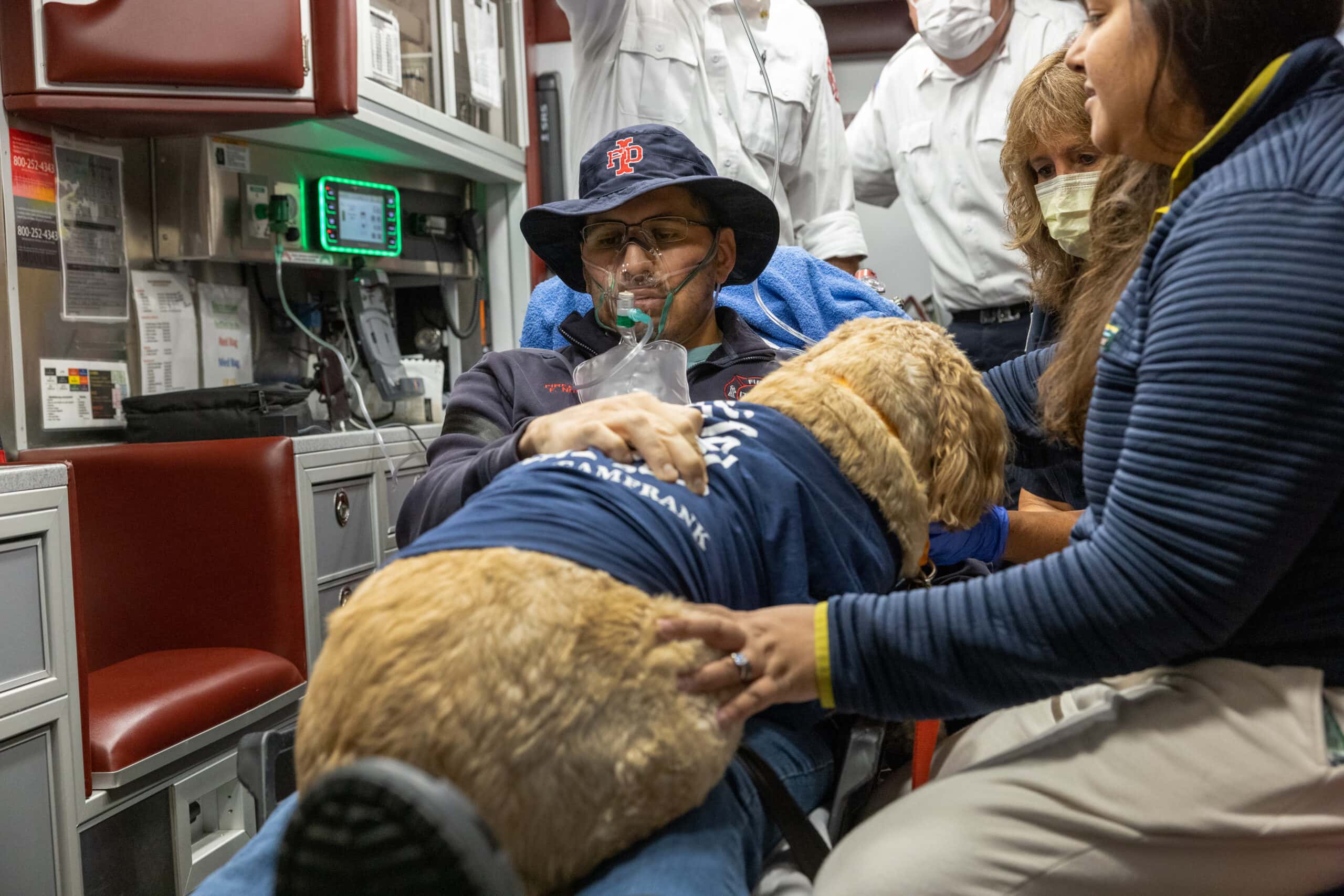 A 34-year-old firefighter and Crystal Lake resident who has been battling terminal cancer and was given a final goodbye parade in September has died, officials said.
The Associated Fire Fighters of Illinois announced the death of Frank Nunez on Sunday.
"This has been a tough week for the AFFI Family. Our deepest condolences go out to his family and the Brothers and Sisters of his local," the union said.
Nunez, 34, of Crystal Lake, began saying his final goodbyes in September from his hospital room at Northwestern Memorial Hospital in Chicago.
Nunez, who began experiencing pain in his left leg and sought medical help, was diagnosed in 2019 with a rare form of soft tissue cancer called synovial sarcoma, according to Northwestern Medicine Media Relations Manager Jill Edgeworth.
He was treated with chemotherapy, radiation and surgery and went into remission.
The cancer returned to his left lung in 2021 and Nunez participated in several clinical trials, Edgeworth said.
During his treatment, he never stopped working at the Itasca Fire Protection District in DuPage County.
Nunez loved being a firefighter and had an incredibly strong work ethic, his colleagues said.
He started his career in 2014 and joined the Itasca Fire Protection District in 2018.
Frank responded to fires, fire alarms, medical emergencies and participated in fire prevention and training.
He recently finished a fire inspector training class before being admitted to Northwestern Memorial in late September with terminal cancer, Edgeworth said in September.
During his latest hospitalization, Nunez's fellow firefighters never left his side, rotating visits every day.
Nunez was unable to speak in the hospital because he was intubated, so he used text messages and dry-erase boards to communicate.
Nunez's colleagues described him as a warrior, intelligent and an "incredible human."
Dr. Khalilah Gates, who is a pulmonary and critical care specialist that cared for Nunez, said Nunez was a "phenomenal" person who would light up the room.
"To every day see his fellow firefighters at the room, and we've just come out of this pandemic where we were all on the frontlines, we were all responding. And to know that they have put their lives on the line for people — Frank is one of those people," Gates said.
In September, Nunez celebrated his 34th birthday with a commitment ceremony to his fiance, Christina, inside his hospital room.
They got engaged in June and shared a dog, Max.
The couple, who live in Crystal Lake, met two months before Nunez was diagnosed with cancer in 2019.
Nunez knew Christina was "the one" from the moment they started dating.
Nunez's mother received a stem cell transplant for leukemia at Northwestern Memorial at the same time Nunez was hospitalized in September, Edgeworth said.
His mother was able to visit him in the intensive care unit where the two shared their final goodbyes through messages on the dry-erase board.
Itasca firefighters in late September transported Nunez back to his Crystal Lake home on hospice care in the same ambulance he once used to transport patients.
"There's nothing sadder than obviously losing somebody, especially somebody young, so vibrant as Frank. So to have us have the honor of bringing him home in this — and that's what it is for us and the people volunteering — it's an absolute honor to take him on this ride. But it certainly is heart wrenching," Itasca Fire Chief Jack Schneidwind said.
Members of the Chicago Fire Department were also present to salute Nunez as he was lifted into the ambulance.
Nunez took his final ride home with his fellow firefighters, his fiancé and furry friend Max, who could not wait any longer for his best friend to come home.
"When you talk about somebody who is dedicated and loves life, you're talking about Frank. He has not missed a day and could have missed many, many days. But he came into work every single day," Schneidwind said.
"He came in with a great attitude wanting to make a difference to the people that we served. And when you talk about somebody who looked forward to living each day, that was Frank," the fire chief said.
Non-profit organization Pink Heals led a fire truck parade past Nunez's home to show support for him after he returned home in September.
Over a dozen fire departments from Lake County, McHenry County and other areas were part of the parade.
The trucks stopped in front of Nunez's home and he was able to meet outside with fellow firefighters and sign a Pink Heals fire truck.
The AFFI said funeral arrangements will be released once they are finalized.