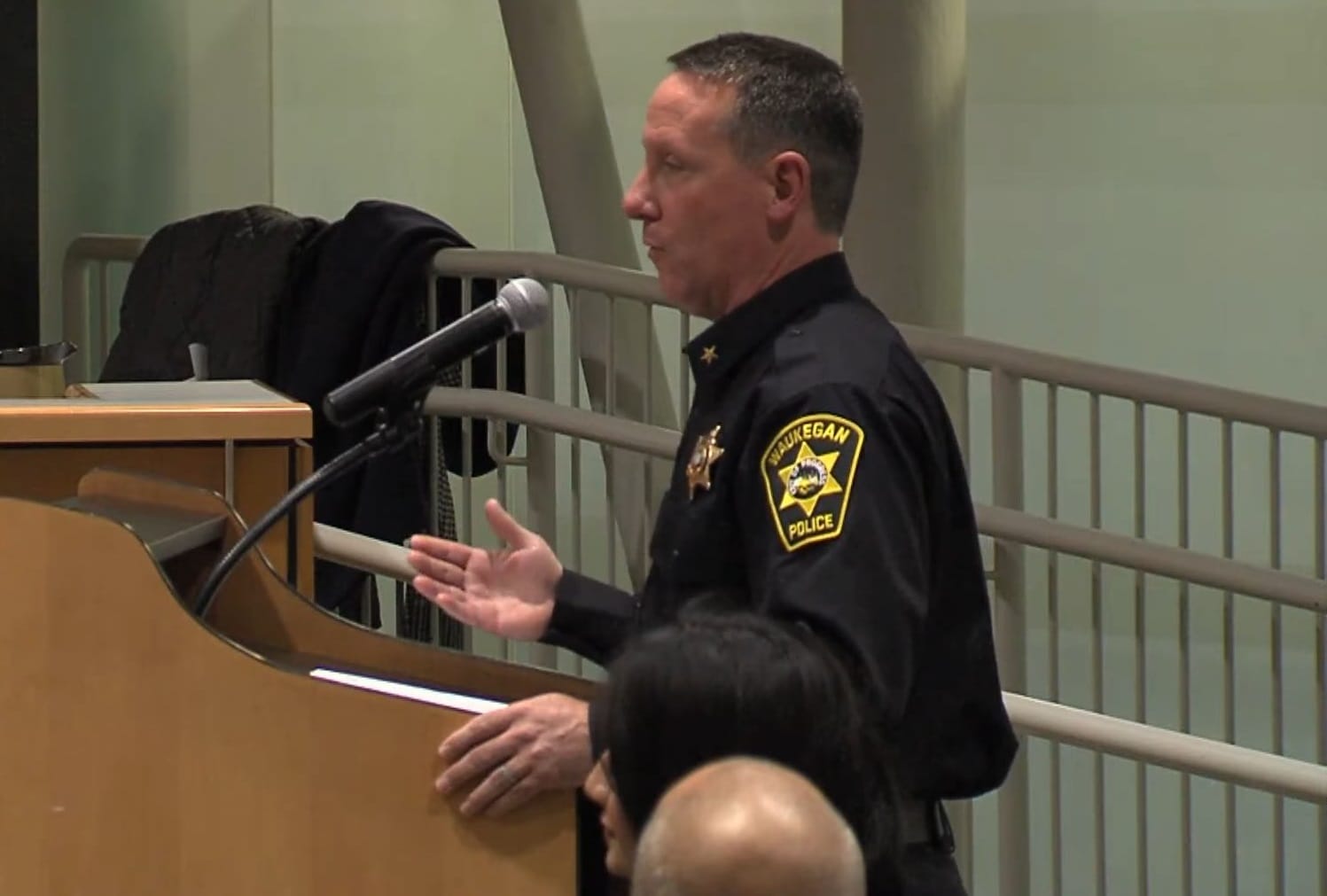 The family of a teenage boy who was wrongly arrested and charged with shooting a store clerk in Waukegan last year has filed a lawsuit against the city and several police officers.
Martell Williams, who was 15 at the time, was arrested in February 2022 and wrongly charged with attempted murder and aggravated battery.
The charges stemmed from a shooting at Dollar General, 2613 Grand Avenue in Waukegan, on February 4, 2022, that left an employee seriously injured.
Williams was a freshman at Waukegan High School at the time. He said he was at school when a dean took him to the office and he was met by two police officers.
"And once I reached their office, it was just two police officers and as soon as I got in they didn't tell me nothing or say nothing to me. They just said, 'you're under arrest,'" Williams said.
Williams said police kept asking him the same question and offered him McDonald's in exchange for a confession.
"The officer said that multiple people came to him saying that it was me," Williams said.
After his arrest, Williams was transported to the Robert W. Depke Juvenile Complex Center in Vernon Hills where he spent two days in custody before being released and the charges being dropped.
Williams, a basketball player, was attending an away game at Adlai E. Stevenson High School in Lincolnshire at the time of the Dollar General shooting.
Williams' mother, Shanika Williams, filed a civil rights lawsuit through her attorney, Kevin W. O'Connor, on Wednesday.
The lawsuit was filed against Waukegan police officers Sean Aines, Joshua Amman and Brian Falotico.
The suit also lists a Waukegan School District 60 co-principal, Waukegan School District 60 Board of Education Member Anita Hanna, Waukegan School District 60 Board of Education and the City of Waukegan as defendants.
The 78-page suit alleges the defendants violated Martell Williams' Fourth, Fifth and 14th Amendment rights.
The officers involved and Hanna failed to contact Martell Williams' mother upon his arrest, the suit said.
The lawsuit also alleged that it is customary for the Waukegan Police Department to place suspects under "extreme duress and abuse" to elicit confessions or incriminating statements.
A jury trial was demanded and the suit is seeking a judgment against the City of Waukegan, which failed to train and supervise its employees on proper interrogation procedures, the lawsuit alleges.
In a statement to Lake and McHenry County Scanner, the City of Waukegan said they cannot comment on the specific facts and allegations in the lawsuit.
"However, the City of Waukegan Police Department continues to implement training of its officers in best practices and standards concerning juvenile suspects and offenders," city officials said.
Waukegan Police Chief Keith Zupec, who is now retired, implemented two policy changes last year in the wake of Martell Williams' arrest.
The first policy change no longer allows the Waukegan Police Department to arrest a juvenile at school, in most circumstances, for something that occurred outside of school, Zupec said.
For incidents that occur in schools, a school resource officer or responding officer will have to contact a supervisor before making an arrest.
The second policy change no longer allows Waukegan police officers and detectives to conduct juvenile interrogations without a juvenile's parent, guardian or attorney being present.
"We are not going to be juvenile advocates inside the room. While state law allows for that to occur, it allows for the police department to be an advocate inside the room. That's not best practice. That's not the smartest thing to do," Zupec said last year.
The city said they hired Jensen Hughes, an independent law enforcement consultant, to review the handling of Martell Williams' arrest and its policies for investigating and interrogating juvenile suspects.
"For transparency purposes, the City has repeatedly asked the Williams family for permission to release not only the Jensen Hughes review of M.W.'s case but also all underlying audio recordings, video recordings, and other records involving the Department's interactions with juvenile M.W," the city said in their statement Monday.
"However, the Williams family attorney, Kevin O'Connor, has refused to allow for the release of those records and has appeared in court to block the release of those records. Under the Illinois Juvenile Court Act, the City may not release these records without permission from the Williams family, or a court order from a Lake County Juvenile Court Judge," the statement said.
"The City of Waukegan and its Police Department are committed to taking the steps necessary to ensure that minors' legal rights are protected, but until given leave from a court, cannot provide further comment on this matter," the city added.