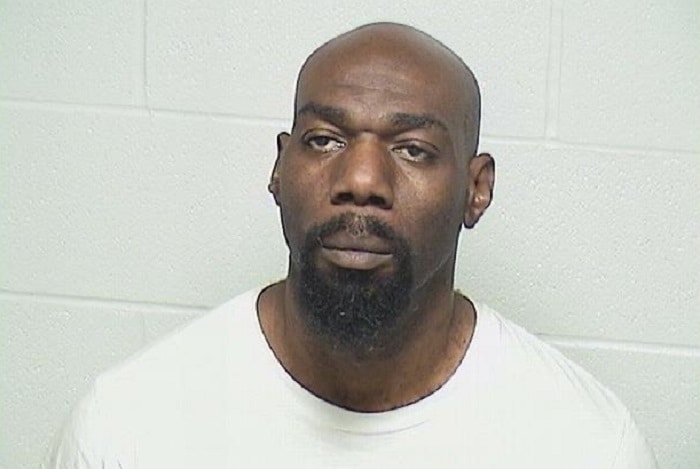 Prosecutors say a Grayslake man, who was just released from prison for armed robbery, participated with his son in beating and robbing an elderly man in North Chicago.
Donald O. Palmer, 47, of Grayslake, was charged with aggravated battery of an elderly person and two counts of resisting a peace officer.
Lake County Assistant State's Attorney Manuel Mandujano said an officer spotted two men, one older and one younger, fighting another man on September 11.
The adult suspect, later identified as Palmer, continued to attack the victim as he was on the ground, Mandujano said.
Officers approached and saw the victim had a head wound and was bleeding from his forehead.
Palmer ran away on foot from the scene and officers pursued him, Mandujano said.
The victim told officers that the two suspects took his phone, wallet and cash.
Mandujano said the victim could not remember his own address or phone number, possibly due to the attack.
The victim also could not remember what was in his wallet or how much cash was inside.
The victim, who is over the age of 60, was kicked and punched by the suspects, Mandujano said.
A public defender for Palmer said the incident initially involved Palmer's son and the victim.
The attorney claimed the alleged victim attacked Palmer's son, which led to Palmer "intervening."
Prosecutors did not say whether any charges were filed against the Palmer's son.
Lake County Judge Theodore Potkonjak ordered Palmer held on a $500,000 bond during a court hearing earlier this month.
In late 2019, Palmer was charged in an armed robbery in Waukegan that occurred in November 2019.
Palmer pleaded guilty to armed robbery and was sentenced to eight years in prison.
He served three and a half years in custody before being paroled from the Illinois Department of Corrections in July.
Palmer has additional prior convictions in Lake County for a 2013 shooting and a 2011 robbery.
Palmer remains held in the Lake County Jail and would need to post $50,000 cash in order to be released. Prosecutors have not yet filed a petition to detain him.